ANALYSIS AND TECHNOLOGY APPLIED TO SPORTS
We are pioneers in Latin America
More than 10 years
leading
innovation in Latin America
We have helped coaches, video analysts and managers around the world improve their performance, make decisions and achieve their goals.
Tailored solutions for every area
Coaches
Coaches
Match and season planning through the study of opponents and assessment of your own team.
Clubs
Clubs
Take club management to a new level by supporting decisions with complete & objective information.
Representatives
Representatives
Complete and tailored information of your players, both in video and statistics.
Players
Players
Assess your performance throughout the season to enhance your strengths.
Video Analysts
Video Analysts
Cutting-edge and timesaving technology for video and communication management with coaching staff and players.
Federations/Associations
Federations/Associations
Complete coverage of every Football League to help teams and players improve by providing detailed analysis.
Academies/Universities
Academies/Universities
Enhance the learning process of your students by providing them the best tools used by professional coaches around the world.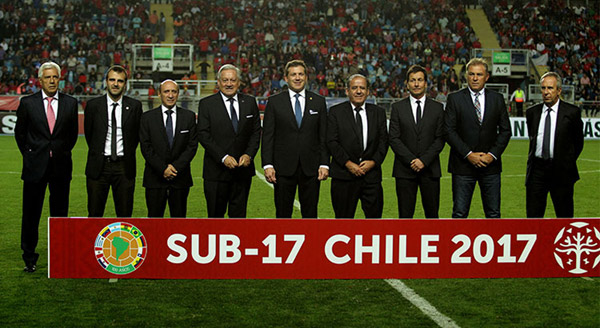 AZsportech is CONMEBOL's official data provider
We provide statistics of official competitions to South America's Football Confederation Technical Study Group.
Football coaches Reinaldo Rueda, Gerardo Pelusso, Gustavo Ferrín and Jorge Burruchaga, along with AUF's Director of Technical Development are also part of the group.
AZsportech partners with ATFA
AZsportech has announced its partnership with Argentina's Football Coaches Association (ATFA) to provide its products to students in ATFA's Online Campus. From now on, students will be able to learn while using technological tools developed by AZsportech and that are used by elite football coaches around the globe.
From the blog
AZSportech
On August 18 1940, in Montevideo, the Villa Española Boxing Club was founded. Ten years later a football section was added to the club, which race under the name of Centenario Juniors. In 1952 it changed its name to [...]
AZSportech
The Kirin Cup Soccer is an annual soccer tournament held in Japan. Since 1991 only football national teams compete. The first champion was Japan´s national team who won this cup in 12 opportunities. The champion of [...]
AZSportech
The "Copa del Rey" (King´s Cup) of Football 2015-16 is the 112th edition of this competition . With the participation of teams of First , Second, and Third Second Division B of Spanish soccer. This tournament [...]